Biography
"Every human being has his own voice. Each one of us has his own cultural background, life philosophy and values. The coloring of voices is as unique as ones fingerprint. This is where the aboundment and endlessness of music starts. It's like life colors; try to look for the color palette of the earth and see where it's going to end. Whatever one judgment may be: it's a result of your feeling and inner flow . Creating music is like searching for meaningful words in my heart and let them come alive through my instrument. The music of mine is the logical consequence of my spiritual growth as a person as well as a musician. It carries a message for inner growth and strength to all of us living together in one world."

Konkie Halmeyer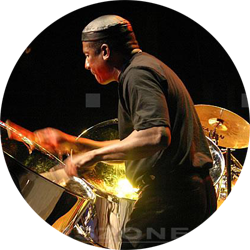 Konkie Halmeyer combines Caribbean rhythms with Soul and has become a very popular soloist in the jazz world. Together with his band "Riba Tera" (Down to Earth) he performs at concerts in theatres, congresses, festivals and others. In addition to this, he also gives workshops.
---
Konkie started his career at the age of 12 in Curaçao in the West End theatre with the Little Moonlighters band lead by Robert Lake.
His talent impressed and two years later he got a ticket to Trinidad, the cradle of the steel drum. There he discovered: "This is it, for the rest of my life!" In 1977 he was part of the Scorpio Steel Combo composing and arranging for them.
Some years later he created his own trio called Splash Pan together with his friend and bassist Sherman van Heydoorn. They played in hotels and other events in Curaçao, performed in Venezuela, Santo Domingo, and the other ABC islands and on cruise trips on the Caribbean Sea. He also went on tour with his trio in Sint Maarten and the Caribbean Islands Barbados, Mont Serat, Les saints and Guadeloupe.
Konkie took lessons in the music academy in composing and arranging and started writing his own compositions searching for his own sound and colour. He combined Caribbean rhythms and became more and more involved in the jazz world. In 1988 he shone with his steel drums in the First Jazz Festival of Curaçao.
After that he performed with great names of the jazz world. Together with Monty Alexander he went on tour in Jamaica and got to know many different European countries. In 1993 he won the KLM JAZZ AWARD. It was now time to leave the islands and start a career in Europe.